Recipe for chocolate and bacon cookies (à la A. Sale)
(back to the main cake seminar webpage)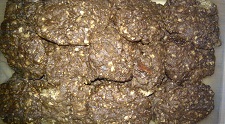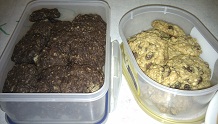 50g self-raising flour
30-40g cocoa
75g (plus some extra for the bacon) light brown sugar (or another sugar if you prefer)
50g oats
75g butter
1 tbsp golden syrup/maple syrup
1 tbsp milk
3-4 drops of vanilla essence
40-50g choc chips
3 rashers of bacon
0. Pre-heat oven to 170-180 deg C.
1. Cook the bacon. Either in a frying pan: non-stick pan, no oil. Sprinkle some sugar on top then just fried them for a good 15 mins or more until crispy, turning occasionally. Alternatively, cook in oven (at about 180 deg C), again with sprinkling of sugar to make them "candied bacon". Put them on a rack over foil, with sugar sprinkled on, and leave them in for 20 mins or more, occasionally scooping sugar back onto the bacon which has dropped off . Once cooked, chop into smallish pieces.
2. Sift the flour and cocoa into a bowl. Add sugar, oats and choc chips.
3. Melt butter in a pan. Add maple syrup, milk and vanilla. You could add the bacon at this point as well. Don't overheat.
4. Add the butter mix to the dry ingredients and mix it all up until you get something that looks like cookie dough. You may add an extra splash of milk at this point if you feel necessary.
5. Prepare a baking tray and cover with greaseproof paper. Place dough in balls, golf-ball size, flatten them out a little bit. Cook for 10-13 mins depending on size. Remove from oven, leave on tray for 5 mins, then remove from tray.